YouTube has launched many features for its users and creators. In this episode, the company has now released another feature, which is named Super Thanks. Through this feature, users can tip their favorite YouTube channel. This will help video creators to earn money. At the same time, YouTube will give a tough competition to Facebook and Instagram with this feature.
YouTube has launched a new feature. YouTube has named this feature Super Thanks. With this feature, creators will get a chance to earn money in a new way. This feature is currently available to creators across countries.
With the help of Super Thanks feature, YouTube content creators can earn money in a new way. With the help of this feature, users can buy Super Thanks while watching the creator's video. Super Thanks can be purchased for supporting favorite creators.
Its price starts from $ 2 (about Rs 150) and goes up to $ 50 (about Rs 3,730) and in India Rupees It has Rs 40 to Rs 1000. After fans make a purchase on this video page, YouTube will add animated GIFs with colorful comments. This will highlight their purchases. The creators can answer this.
This feature is available to creators and audiences on desktop and mobile devices in 68 countries. It has been made available for both Android and iOS mobile devices. The company has said that it is trying to reach more creators by the end of this year.
YouTube has stated that this feature will not be available for certain types of videos. It includes videos like private, age restriction, unlisted. Like Super Chat and Super Stickers, Super Thanks is giving creators an opportunity to earn more money apart from connecting with their fans.
You can see if you've got access to Super Thanks. First, sign in to YouTube Studio and click on Monetization in the left menu. Here click on Super tab. Here you will get the option of Super Thanks On and Off. If you haven't got this option yet, then you will have to wait a few days for it.
Read More:-
How to Enable Super Thanks on YouTube Video
It is very easy to enable it you can follow this instruction step by step or watch the screenshot below the instruction.
1 – Open YouTube Studio
2 – Click on Monetization
3 – Click on Super Tab or Button
4 – Enable Super Thanks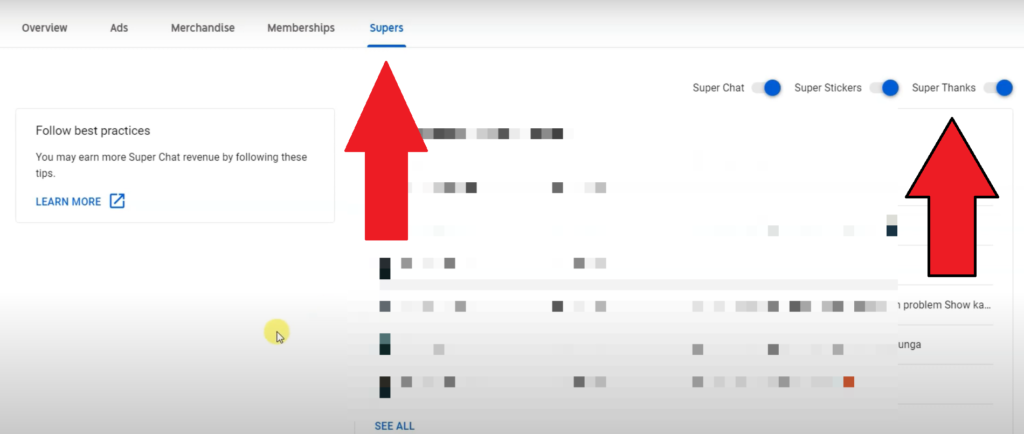 How To Enable Super Thanks On YouTube Video (watch Video in Hindi)