If you currently have a YouTube channel, you must be wondering how you can Increase YouTube Subscribers.
Should you buy YouTube subscribers?
Are there free ways to increase YouTube subscribers?
With a smart strategy and persistence, you could be the next big YouTube star with tons of subscribers.
I have shared strategies that would help you to get more YouTube subscribers in no time.
How do I know that?
Because I have applied for it and here is what my YouTube channel subscribers say.
Video content is leading the way in the content marketing scene YouTube is currently the leading platform for video Blogging (Vlogging) Facebook and Twitter have recently stepped into the video marketing game. YouTube has over a billion unique YouTube visitors per month, there is a large potential audience for every uploaded video. YouTube is a great platform for bloggers to broaden their internet reach by making a personal connection with their followers.
Smart ways to Increase YouTube Subscribers in 2022
Add a watermark to your video.
This is a nice little hack that you can use for a YouTube channel right away. In YouTube let you add a watermark that could be shown on all your videos and all the time. This adds another way for your viewers to subscribe to your channel.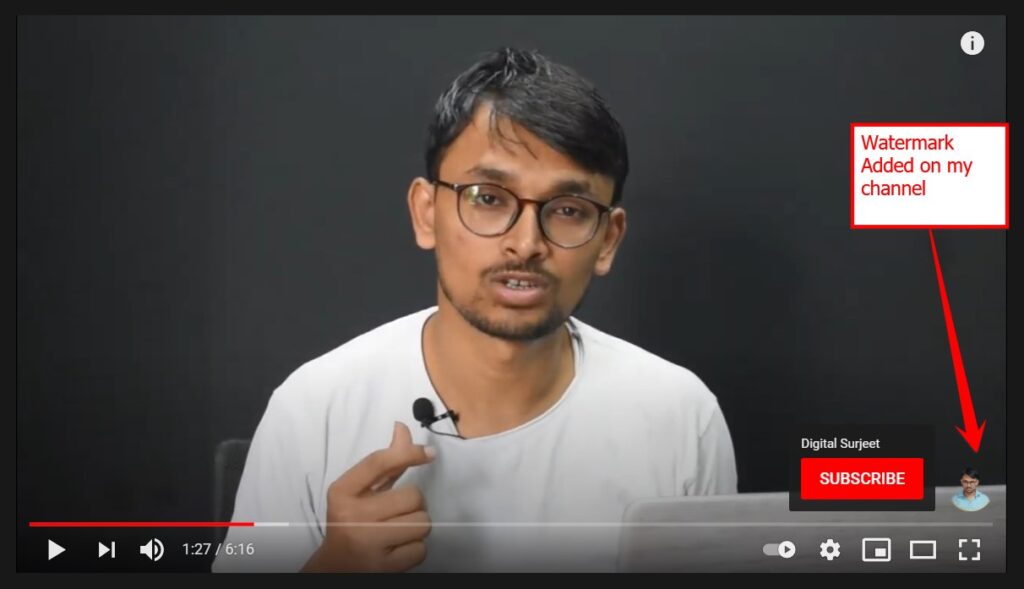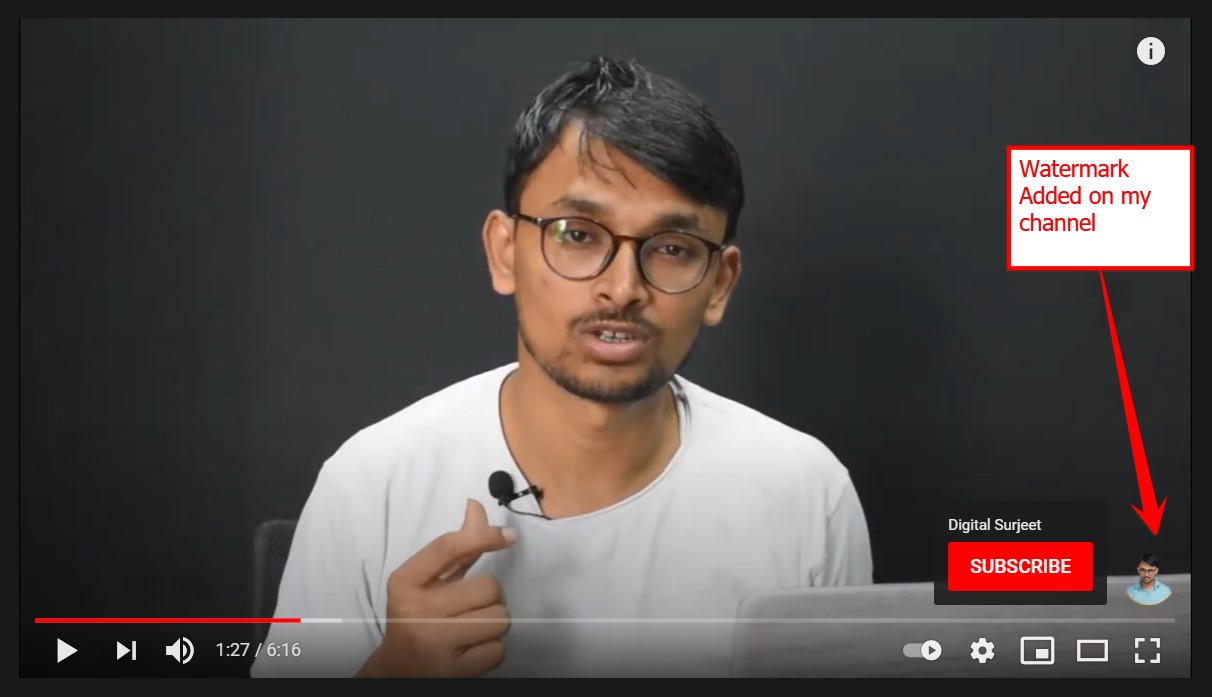 Head over to the YouTube Branding page in your videos and add a watermark. You can also remove any existing watermark and use a new one. I used my logo as a watermark but later on, I shifted to the "Subscribe" icon which helped me to increase the number of subscribers.
Append your channel URL with a subscription string.
This is another smart way to exponentially increase YouTube subscriptions from people who click on your channel link. Sub confirmation=1"
Before: https://www.youtube.com/channel/digitalsurjeet
After: https://www.youtube.com/c/digitalsurjeet?sub_confirmation=1 (Click on Link to See Live Result)
when a user clicks on your link with SML magic string (? sub_confirmation)=1), they see the pop-up to quickly subscribe to your YouTube channel.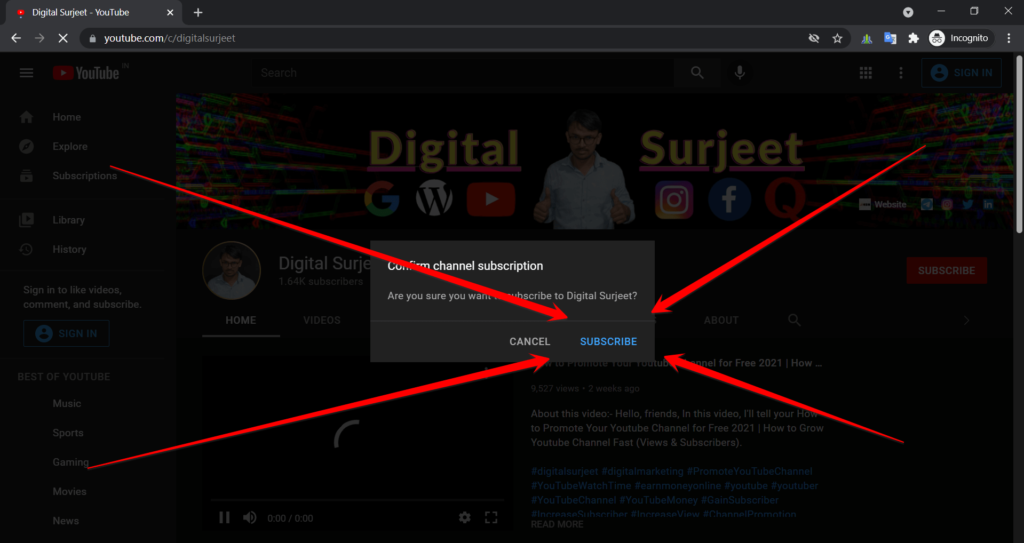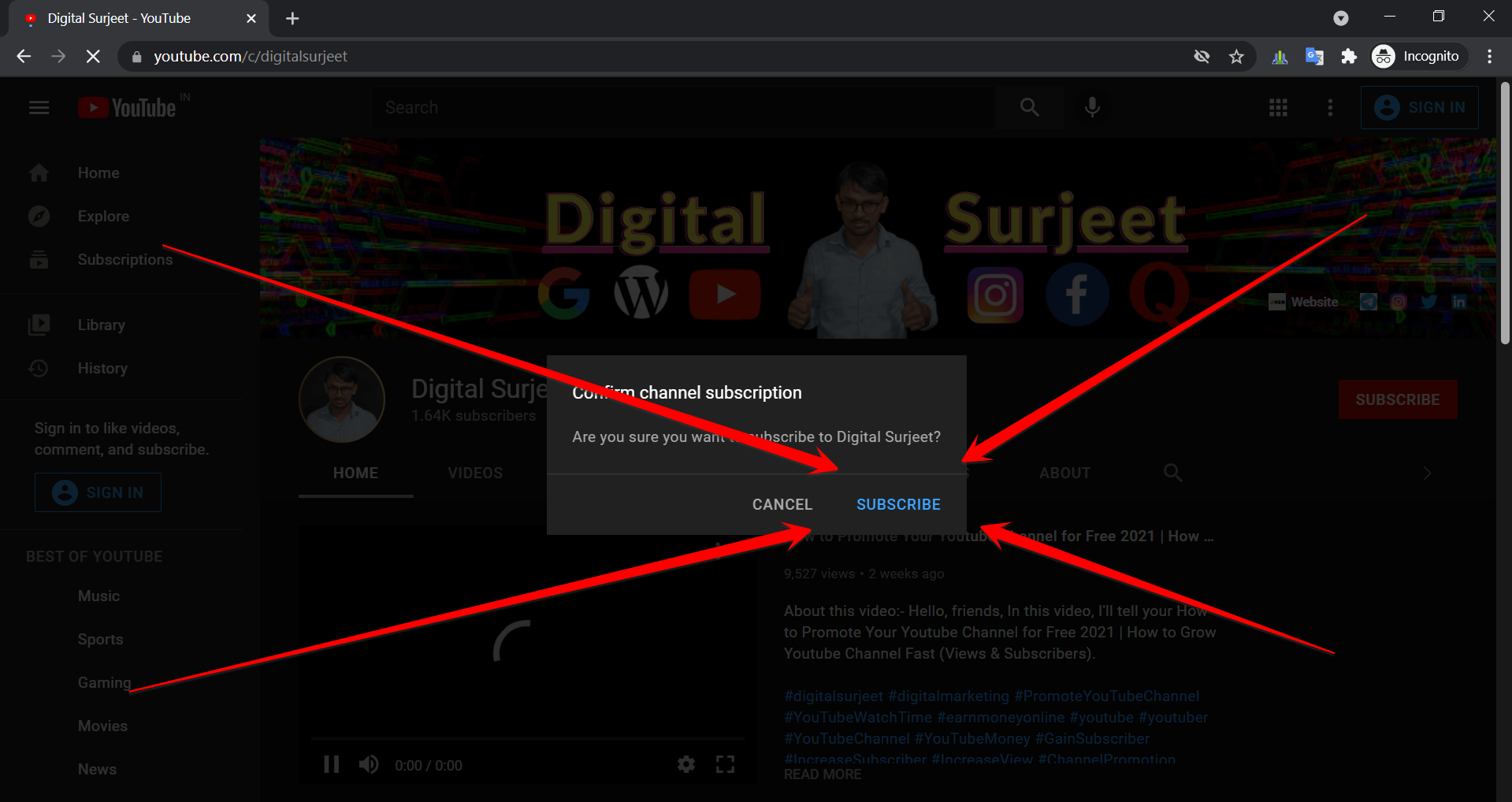 Produce highly engaging content (obviously)
It should go without saying, but you need to create content that is engaging, informative, and entertaining. Losing the hook in the middle will cost you a lot of viewers. Content that works the best is content that is either entertaining or informative. Specifically, you should be uploading a combination of burst and evergreen videos. Burst videos will be all the rage for a limited time.
Increase your uploading frequency.
The main reason someone subscribes to a channel is that they love the work of the publisher and want to see more of their videos. YouTube subscribers usually do not like channels that don't produce regular content. Especially in today's digital age, consumers want entertainment.
Stick to your schedule and upload videos according to your schedule. This will increase your reputation. It's like watching your favorite TV series; a new episode comes out according to a regular schedule. This consistency helps you stay engaged as a viewer. Release your videos in a timely, recurring, and structured fashion. Try to publish one video per week…or at least one or two per month.
Consistency is the key to developing a long-lasting relationship with your subscribers.
Read more:-
Optimize YouTube titles for CTR
Being distinguishable is the most important aspect of YouTube's success.
One great way to do this is to give your videos offbeat names. This way, you're going to be setting a lot of people coming to your channel based on curiosity. Having quirky titles will play a major role in getting the views that your channel needs to benefit from the social proof factor.
Use the keyword in the title: This had a larger impact on SEO in the past, but it still has a pretty large effect on video. Google crawlers don't watch videos the way they read blog posts, so putting the keyword in the title will let Google bots know what your video is all about.
Use Google Adwords to identify what people are searching for on the web. Try to tackle videos with a perfect blend of high-volume searches and low competition. Don't make the title too long Google truncates the length of the video down to 66 characters and adds 'YouTube' before the video taking an extra 10 characters. Your ideal video title should be no more than 50 characters.
Let people find your YouTube channel.
YouTube provides an option to link to your official web page, and if you've got one, make sure you do it.
This makes sense, and there's no reason for you not doing it. The efforts you put into getting visitors for your YouTube channel can be capitalized on when you direct your most curious visitors to your website. Moreover, your channel will also become verified as an authentic representation of your brand on YouTube.
Under the channel settings of your YouTube page, add your website/blog URL to your channel You may also consider adding your website/blog URL in the channel description itself.
Similarly, add a 'Subscribe' button somewhere on your blog to drive more subscribers to your YouTube channel.
Watch: How To Add YouTube Videos to WordPress Website.
Publish longer videos.
Although YouTube is home to many detailed, in-depth reviews and other such lengthy content. The high converting videos are the ones that are now more than 10+ minutes and will provide a positive impact to the subscribers.
Source: backlinko.com
Earlier, shorter videos used to perform well but now as YouTube has gained momentum, longer videos tend to rank higher.
Conclusion
Today we talked about how you can increase YouTube subscribers. Well, it is not tough to work but you have to place your full potential to get quick results.
These methods are highly effective and genuine which are used by many YouTubers and get unexpected results from them. Now, just go and use the above-discussed tricks to enhance the YouTube subscribers in your YouTube channel.
---
Thank you guys for reading this article please share your feedback with us. Guys still haven't a subscriber to my channel please subscribe to it for the latest video about YouTube Growth. Channel link – Search @DigitalSurjeet or click here – Digital Surjeet YouTube Chanel.
Also Read: