MilesWeb Review: Virtual Private Server (VPS) is a need of every growing website and business.
Have you noticed that you were getting a good number of visitors on the website, and suddenly the count has fallen?
If yes, first see if your site hosted on shared hosting.
If so, then you must know that the plan needs to upgrade now.
In shared hosting, a website gets limited resources, and during the initial days, those resources seem sufficient. But, as time goes and the site starts getting more visitors, these resources may not be able to fulfill visitors' requests. Thus, it leads to website downtime and slow speed.
An indication that your site is falling short of resources. Its time you upgrade it so that in the future, you won't lose any visitor.
While upgrading the site, if you don't want to opt for a dedicated hosting option, then VPS hosting can be the right choice because VPS hosting acts are somewhat similar to dedicated hosting and are cheaper than specialized hosting options.
In VPS hosting, the website is hosted on a shared server but still gets dedicated resources. That is why it is known as a combination of shared and dedicated hosting. As in VPS, you don't get dedicated server space. Thus the cost is cheaper than a specialized option. But VPS takes care that a site does not suffer from resource crises. Therefore, it considered the best possibility for a growing website.
As the plan gets upgrade, its management also gets a bit tedious, so to cope up with it, the solution is to opt for managed VPS hosting from MilesWeb. They have cheap VPS hosting in India, powered by KVM hypervisor that is available in multiple sizes with various technical components. Also, the VPS hosting features based on robust infrastructure with built-in SSD storage.
MilesWeb has six plans, namely V1, V2, V3, V4, V5, and V6, under fully managed VPS hosting in India.




V2 is a clear plan that has sufficient resources to fulfill website requirements.
Features that you get with all these plans are :
Quick Navigation
Solid State Drives (SSD) –All the VPS servers are built-in SSDs to provide better performance and reliability. It uses flash technology that accelerates the site's speed by 200%resulting in improving the page load speed.

SSH Root Access – Full root SSH access provided so that you can get complete control over your Linux VPS hosting account.

Resource Monitoring Dashboard – Avoid the confusion of resource usage and monitoring. A dashboard provided that makes your work easy. It is a user-friendly dashboard, using which you can reboot VPS, monitor memory usage, check the server load, and manage other configurations.

Host Multiple Sites – MilesWeb makes it possible for you to host all your websites under the same VPS account. That means you can organize and even manage multiple sites from your single VPS account.

No Set-Up Fee – Many providers ask for the set-up fee along with the plan price. Because setting up Linux VPS hosting is a bit difficult if you are not tech-savvy. But, MilesWeb provides the free set up, which means no additional charges asked once the plan is purchased.

Robust Infrastructure – The VPS hosting infrastructure of MilesWeb is a built-in collaboration with some leaders like Cisco, Supermicro, Dell, and HP. They provide the best cutting edge servers for best uptime and stability.

Instant Provisioning – Many times, you need to wait for long hours to make the site live or update with the latest software versions. But, the technical team of MilesWeb ensures that your website gets up in no time, and all the software is updated automatically as soon as the new version is released.
These features make sure that you don't stick at the point of your VPS hosting journey.
In case of any difficulty, you can directly reach out to their technical team that is available 24/7.
Additionally, get the VPS server migrated for free.
Yes, in case you are looking for a new VPS provider that ensures a smooth website working, then MilesWeb can migrate your data from the current providers to their servers. The team makes sure that no data lost during the migration process, and the site doesn't get down.
All VPS servers from MilesWeb include and support :
IPv4
PHP/ Perl/ Python
DNS / PTR Records
Django/ FFMpeg/ Ruby on Rails
JSP/ Tomcat/ Java/ Node.js
Secure Shell (SSH)
MySQL/ Mango/ MariaDB
Ruby Version Manager (RVM)
Host unlimited domains and sub-domains
Unlimited Email accounts
Subversion Repository (SVN)
XCache/ Varnish
Access to Raw Log Files
Apache / Nginx / LiteSpeed
The managed VPS is a power-packed hosting service that consists of :
Control panel installation and configuration
Linux security and hardening
CMS and web application installation
CSF firewall installation and configuration
Network fine-tuning
Kernel patch updates
Security optimization
Server performance fine-tuning
Protection against server blacklisting
Malware removal
DNS set-up
VPS migration
Database and website security
Spam protection
Malware, virus detection, and protection
and much more
MilesWeb provides the best web hosting in India and is the only provider that offers all these features at such affordable prices.
Here are some customer reviews: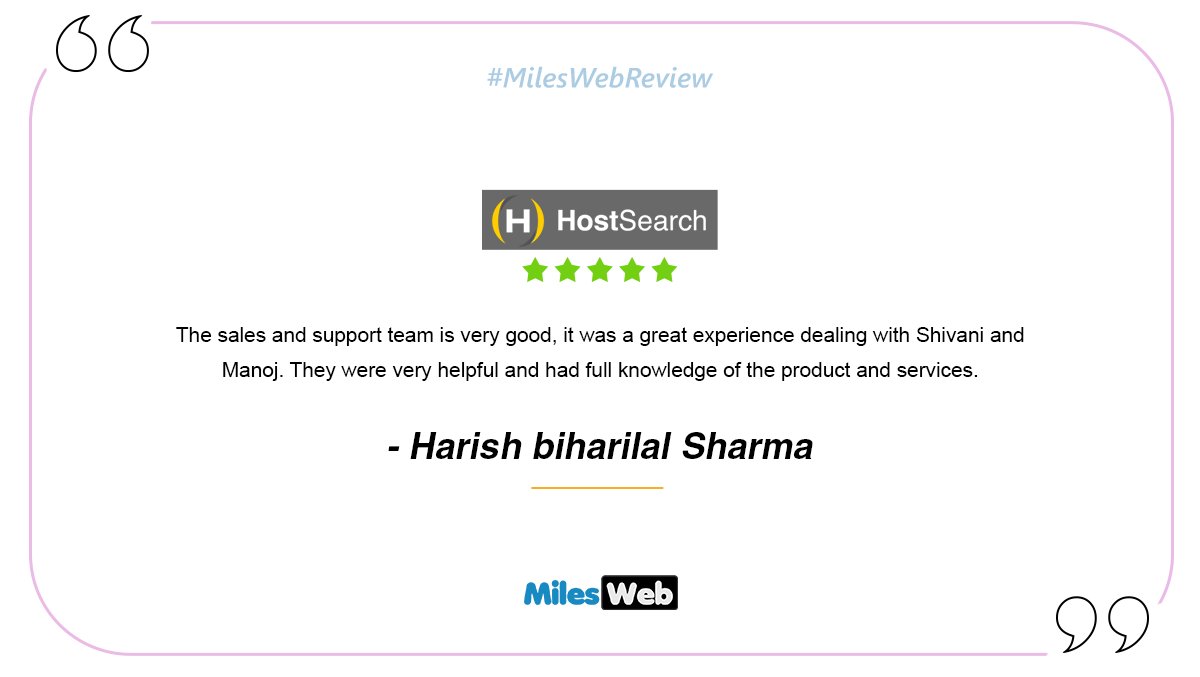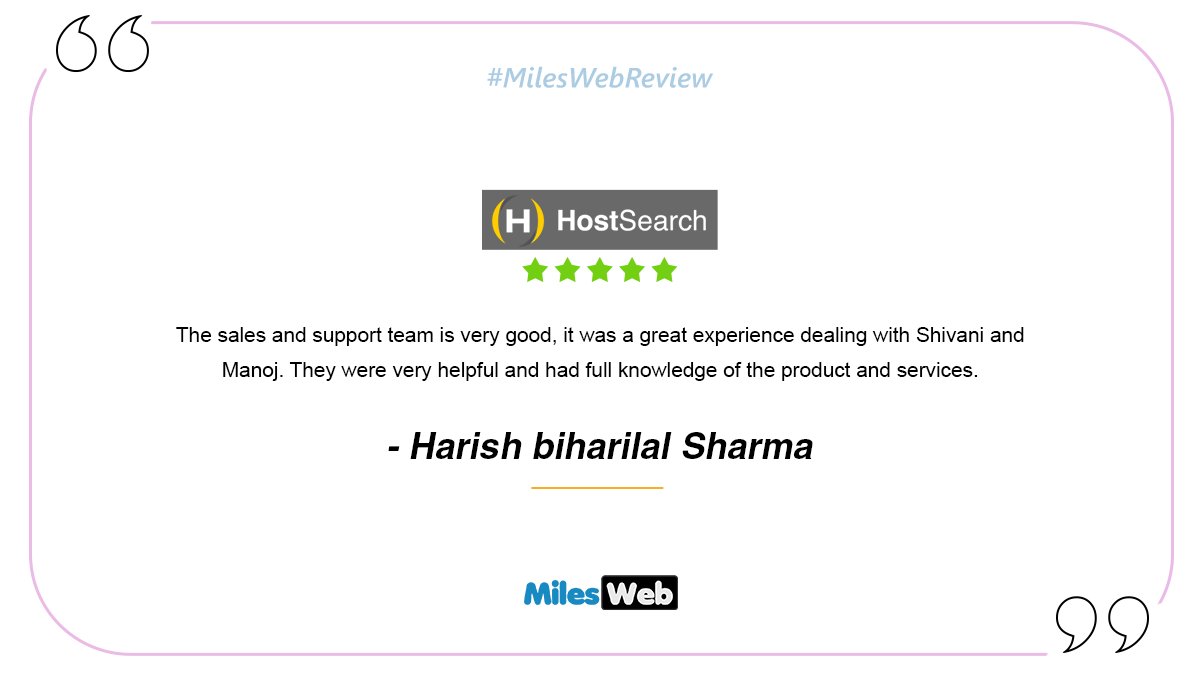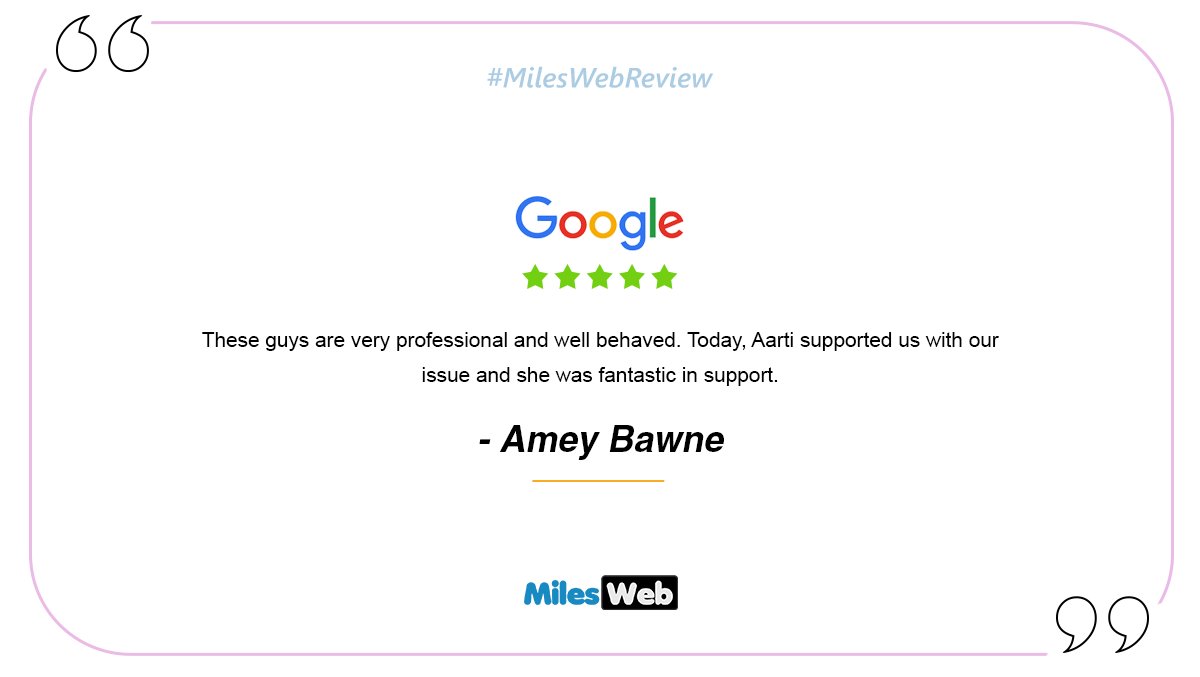 Conclusion –
VPS is a perfect choice for growing websites to serve their visitors without any hassle. In this article, some highlight is given to MilesWeb, as I found it a more suitable choice. You can compare it with other providers and find the best one also. MilesWbe offers 99.95% Uptime and comes with a 30-days money-back guarantee.