Still Confused Where to Advertise Your Company or Firm!
Here, we have a solution to your problem.
Listed down are 100+ social media sites links that will not only help you in advertising but also expand your business journey, diversify your thinking, and would encourage your earnings too.
In today's era, social media is that platform that gives an abundance of opportunity but if chosen correctly and professionally.
So here we are to help you out. Contact us!
Why We Suggest Choosing From the Top 100 Social Media Sites?
There are numbers of social media platforms available, but of course, they all have different features, different pros and cons.
But it depends on business to business what they need and according to that, they should select the one.
So we provide the top 100 social media sites which would help you to choose cleverly and correctly. Because the more options the better the choice is!
Secondly choosing the right platform for advertising is very necessary as it does not only affect your present business scenario but also to the future.
When we say social media marketing, the first thing which comes in our mind is always how people would react, so it always depends on you how you want to present your product in front of them, which way you want to choose to communicate with them that is maybe through writing or graphics, etc.
Thus you must choose the platform which is suitable for your business type.
FURTHER READING:-
How To Social Media Sites Will Help You?
As the world is moving digital we also need to take steps towards the digital world. Taking the help of top social media sites may help us to find a digital way that would improve our business ranking.
Secondly, Social media platforms allow us to connect with various people not only in India but internationally too which helps us to increase our reach, make us more popular, encourage us to learn new things, etc.
List of Top 10 Social Media Sites:
Here we have mostly used and most popular sites which we use to add the post. And these sites give us the maximum number of responses. So we have listed accordingly-
1. Facebook:
The site Facebook came into existence on Feb 4, 2004.
This site was founded by a group of people including Mark Zukerberg, Eduardo Saver in, Andrew McCollum, and Chris Huge.
As per a survey, the site has been accessed by 20.20 billion users worldwide; this provides a huge platform for advertisement, marketing, and sales.
Product description along with photos and videos can be uploaded to the social media site that can reach millions in just a single click.
2. Instagram:
Instagram was created by American Authors, Kevin Systrom and Mike Krieger and presently owned by Facebook.
The site allows the sharing of photos and videos along with a proper description. Also, it provides insight options for business and direct messaging allows communicating with the desired group directly.
The site was launched on Oct 6 2010 and since then has been nominated and awarded for many categories including the Teen choice award for Choice Social Network.
3. Twitter:
Twitter was founded by Jack Dorsey, Biz Stone, Noah Glass, and Evan Williams in March 2006.
The platform provides a medium for conversation and microblogging involving the use of hashtags and @rate for tagging. The messages are known as tweets.
The site has been used by around 4 billion people worldwide.
4. LinkedIn:
Founded on 28 December 2002, LinkedIn has 979.30 million users worldwide. It was developed by Konstantin Guericke, Reid Hoffman, Allen Blue, Jean-Luc Valliant, and EricLy.
The platform provides a medium to find people of similar interests along with varied job opportunities.
5. YouTube:
YouTube was created on 14 Feb 2005 by Jawed Karim, Steve Chen, and Chad Hurley as a video sharing platform.
The site provides live streaming, 3-D videography, and varied resolutions for easy and comfortable access.
The platform has been used by a major youth group for various purposes worldwide.
6. Pinterest:
Launched on 9th March 2010, Pinterest was developed by Ben Silbermann, Paula Sciarra, and Evan Sharp.
The platform has been accessed by a min of 1.70 billion people provided to share infographics images with website links.
7. Tumblr:
Tumblr provides video, images, files, URLs, documents, and much more.
The platform came into existence in Feb 2007 was developed by David Carp and has an access to over 380.80 million users worldwide.
8. Flickr:
The site is available in varied languages other than English to provide global users easy access.
It was developed on 10 Feb 2004 by StewertButterfied and Caterina Fake providing around 99 million users easy access. It provides a platform to host video and photo services.
9. Dribble:
It is a platform for designers to get their work published including graphic designers, web designers, illustrators, etc.
This site came into being in 2009 by the works of Dan Cederholm and has been accessible by 21.40 million people worldwide.
10. HackerNews:
The site is perfect for digital entrepreneurs, programmers to share their work over a social media platform.
This site came into existence by the work of Paul Graham on 19 Feb 2007 and has been used by 18.70 million people.
Here We Have Top 100+ Social Media Sites List to Advertise Your Product.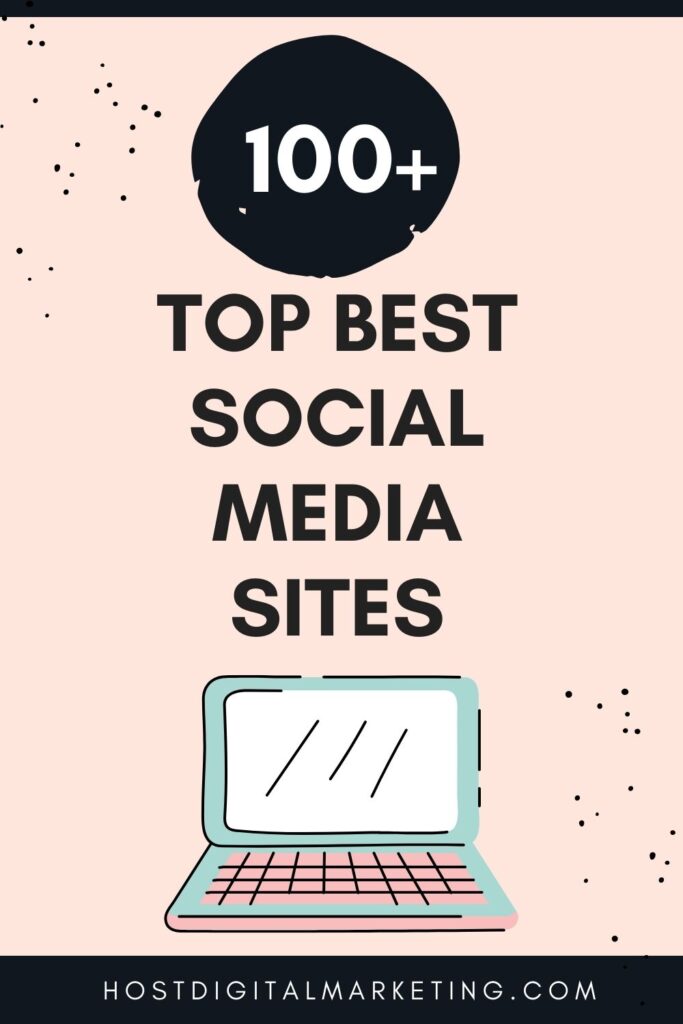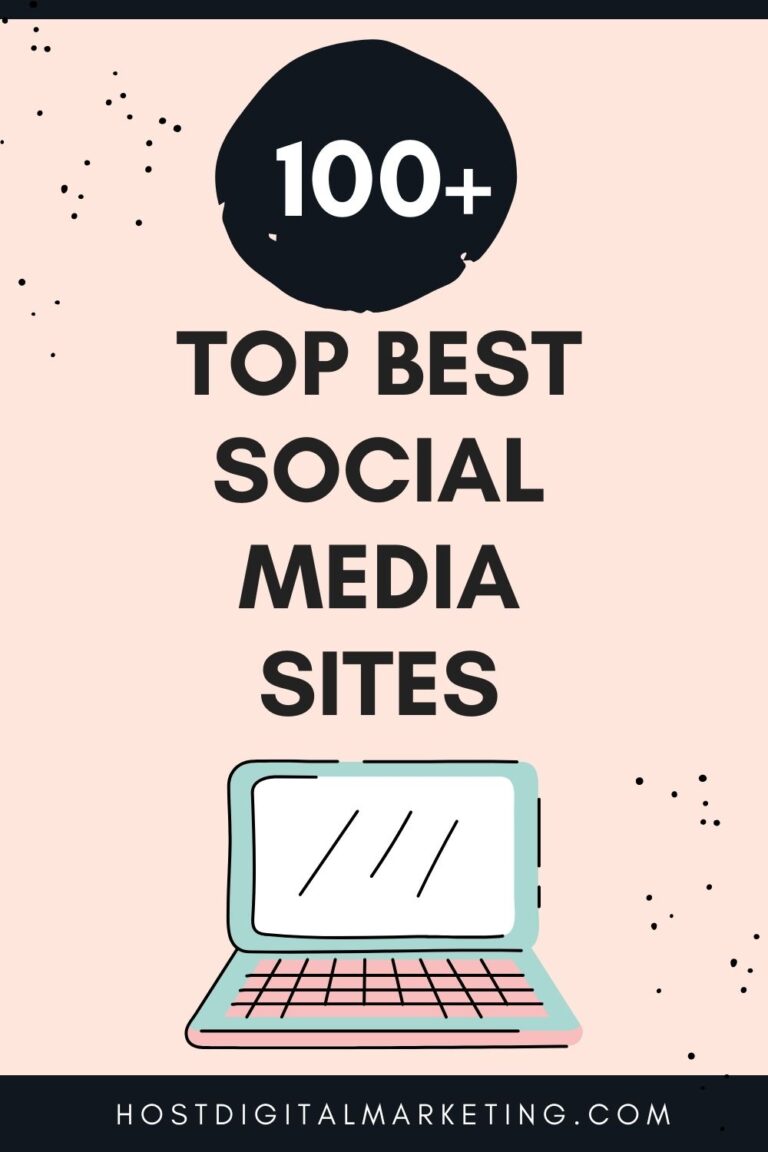 CONCLUSION

About Top Social Media Sites List:-
According to observations and analysis, the social platform is really helpful for all types of businesses.
As it helps in advertising and promotion of business.
These social media sites show which one would help the owner to advertise or promote in a better manner.
These are ranked in such a way that they will help you to get the best results for advertising and promotion.
And thus, it depends on the type of businesses that what and how they have to market and according to that they should choose the particular site!
Note – Don't forget to share, like Follow & Comment.
And please share your opinion with us, about this post or article.
Frequently Asked Questions (FAQ):
Note: In this SEO we are working since 2018. We want to tell you one thing that is we have experience how to SEO, How to rank a website using proper SEO technique. Please click here to free contact us if you require any help in SEO and any other Digital Marketing Services.
Please share your opinion about this "Best 99+ Top Social Media Sites List", Because we are sharing valuable content for our viewers like you and others. If you have already social media sites list please share with us we will update here.